Westfield Senior High School


Class Of 1975
In Memory
Gary W. Kehler (Teacher/Coach/Athletic Director)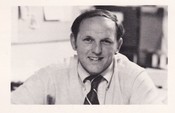 Westfield Leader

December 13, 2007
GARY KEHLER, 76, ATHLETIC DIRECTOR; WAS OUTSTANDING WESTFIELD COACH
Gary W. Kehler, 76, passed away surrounded by his family on Friday, December 7, after a long, courageous battle with cancer.
Born and raised in Washington, N.J., he was a long-time resident of Westfield.
Mr. Kehler served in the Westfield public school system for 36 years as a teacher, coach and athletic director of outstanding ability and integrity.
He was widely known for the powerhouse football, wrestling and golf teams that made Westfield a byword in athletic circles.
A United States Army veteran of the Korean Conflict, he earned Bachelor of Science and Master of Education degrees from Rutgers University and principal and supervisor certification from Kean University.
Surviving are his beloved wife of 53 years, Alice (Schwind) Kehler; three sons, Glen and his wife, Sue, Todd and Douglas and his wife, Lane; six grandchildren, Chris, Danny, Allie, Wil, Jackson and Laurajane; a brother, Richard Kehler; a brother-in-law, William Schwind, and many nieces and nephews.
A memorial service will be held at 11 a.m., Friday, December 14, at The Presbyterian Church in Westfield, located at Broad Street and Mountain Avenue in Westfield.
Memorial gifts may be made in his name to: The Westfield Athletic Hall of Fame, in care of Lee Hale, 925 Wyandotte Trail, Westfield, N.J. 07090; Atlantic Hospice, 33 Bleeker Street, Millburn, N.J. 07041, or the Agape Food Program, in care of The Presbyterian Church, Broad Street and Mountain Avenue, Westfield, N.J. 07090.
Arrangements are by the Dooley Colonial Home in Westfield.