Westfield Senior High School


Class Of 1975
In Memory
Mark Vejnoska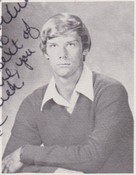 Princeton Alumni Weekly, September 11th 1996 Issue
Mark A. Vejnoska
Mark died May, 16, 1995, in Chicago, Ill., where he lived since our graduation.
A graduate of Westfield [N.J.] H.S., Mark majored in political economics at Princeton, graduating sum laude. A member of the swimming team our freshman year, Mark remained a fitness fanatic for his entire life. Rain or shine, he ran daily around Lake Carnegie. Mark was a member of Cottage our junior year and lived in Spelman as an independent our senior year. Mark was a student teacher at West Windsor H.S. during our senior year, obtaining his New Jersey teacher certification. We always will remember a group of his students (skipping class!) who somehow gained admittance to our graduation ceremony to cheer for "Mr. Vejnoska."
After receiving his MBA from the U. of Chicago, Mark worked for Price Waterhouse. He then joined the national office of the YMCA, where he rose to assistant comptroller. He played first base in a Chicago softball league for many summers. His team won the league championship four consecutive years, and Mark was named league MVP the last year he played.
Mark is survived by his companion of nine years, Evan Smith; his parents, Larry and Sally; his brother, Chris and family; and his sister, Jill. The class extends to them our deepest sympathies.