Westfield Senior High School


Class Of 1975
In Memory
Andrew Kowalczyk
The Westfield Leader Thursday, April 23, 2020 Page 12
Andrew Kowalczyk, Extraordinary Man With a Heart of Service
Andrew "Andy" Kowalczyk, 63, passed away on Monday, April 6, 2020, in Coral Gables, Florida, due to Covid-19.
He was born April 1, 1957 in New Brunswick, N.J., and raised in Westfield, N.J.
He graduated from Westfield High School in 1975, where he was active in several sports but most known for being the lead singer in his band "Cadillac".
He graduated from West Chester University in 1979. After working in Finance in New York for many years, he founded AK Capital in 1998 with offices in New York and Florida.
Andy had a heart of service, whether working with philanthropies like the Wounded Warrior Project, ALS and Wings Over Wall Street, or helping people individually. He had genuine concern for his fellow man. He believed the best way to lift oneself up was to help someone else in need. His FB posts often encouraged others to have the Best Day Ever (BDE). He was all about having fun while creating value and inspiring people to live their best lives.
One of his favorite projects was an album he produced to help aid, empower, and inspire the New Orleans recovery after Hurricane Katrina. The album,"Sing Me Back Home", brought wonderful artists, headliners in their own right, together under the name New Orleans Social Club. Among them, Leo Nocentelli, George Porter, Jr., Trombone Shorty, Irma Thomas, Cyril and Ivan Neville, and John Boutte, to name a few.
Andy was an avid reader, always seeking personal growth through education, prayer and meditation. He was a beautiful soul, the kindest and best of men.
He loved music, especially Rock 'n' Roll.
He adored his family, stating his father was his best friend.
His incredible joy for life was matched by the unquenchable fire in his belly to make a difference in people's lives.
Although he's gone way too soon, he lived a life full of love, purpose and service to his family, friends and community.
He is survived by his wife of 27years, Elizabeth (née Bliss); parents, Edward and Cynthia (Tuccillo) Kowalczyk; sisters, Margaret Milne and Paula Kowalczyk Jakob; broth-ers-in-law, Dave Jakob and Carl Bell, and extended family.
A memorial will be planned when the pandemic subsides.
---
While not an official obituary, I tracked down this article about Andy in the Miami Herald from 04/18/2020
Miami Herald April 18th, 2020
Who we've lost in South Florida: a cop, a nurse, a banker, a grandma and so many more
The rock star
Andrew Kowalczyk lived a life of big experiences.
A former rock-band singer, Kowalczyk produced a relief album for New Orleans musicians affected by Hurricane Katrina. He skydived, practiced yoga and meditation and, at one point, even owned five race horses.
Kowalczyk, an investment banker, died April 6 at Coral Gables Hospital from complications of COVID-19, the illness caused by the novel coronavirus that has caused a worldwide pandemic. He was 63.
"He was one of those guys who would lift up a room when he walked in," said his widow, Elizabeth Kowalcyzk. "He was trying to squeeze the juice out of life."
Kowalczyk was born on April 1, 1957, and raised in Westfield, New Jersey. He ran his own private investment banking firm, AK Capital, and split time between New York and South Florida.
As a young man, he was the lead singer of a group called the Cadillac Rock Band. Over the years, he also released two albums, Just Bad Enough and Rock & Roll Appetite. In 2006, he served as the executive producer for Sing Me Back Home, by the New Orleans Social Club, featuring artists such as Cyril Neville, Big Chief Monk Boudreaux and the Sixth Ward All-Star Brass Band Revue. The proceeds of the album went to help musicians affected by the devastating hurricane.
Kowalczyk was involved with philanthropic organizations, such as the Muscular Dystrophy Association's Wings over Wall Street event, and the Wounded Warrior Project.
An avid sports fan, he also got the chance to play in a pro-am tournament in 2002 with a young budding star golfer: Tiger Woods.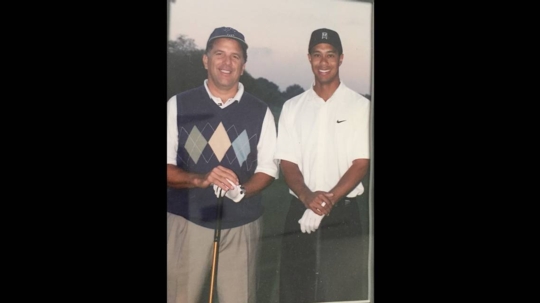 Andrew Kowalcykz, above, with pro golfer Tiger Woods during a pro-am tournament in 2002. - Elizabeth Kowalyzk
Kowalczyk and his wife lived in Doral. He fell ill on March 18, two days after he returned from a trip to New York. He self-quarantined at an apartment they own on Miami Beach. A couple days later, he woke up feeling feverish and weak. Kowalczyk took an Uber to Coral Gables Hospital, where he later tested positive for COVID-19.
Kowalczyk was upbeat about recovering, his wife said. He was strong, and besides yoga and pilates, was an avid weight-lifter. "He was constantly working out," Elizabeth Kowalczyk said. "He said he'd fine, to not worry about it.'"
But on Monday, March 30, Kowalczyk's condition suddenly worsened. He could no longer breathe on his own. His condition was aggravated because he had chronic lymphocytic leukemia, a slow-progressing disease that can affect blood and bone marrow but has been dormant in him. Kowalczyk was intubated and spent two weeks on a ventilator before he died.
The death devastated Elizabeth Kowalczyk, who could not be by her husband's side at the hospital. She herself remains quarantined in their Doral home, with no symptoms.
The two were married 27 years, and had been together 32. "We were lucky to have a wonderful marriage," she said. "He was one of those amazing guys with a huge heart."
She plans to hold memorials in New York and Miami when the viral outbreak subsides.
Kowalczyk is survived by his wife, his parents, Edward and Cynthia Kowalczyk; and two sisters, Margaret Milne, and Paula Kowalczyk Jakob.
https://www.miamiherald.com/news/coronavirus/article242009786.html#storylink=cpy