Westfield Senior High School


Class Of 1975
In Memory
James Howard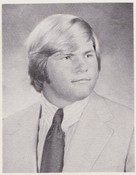 Westfield Leader- January 4th, 2007
James M. Howard, 49
James M. Howard, 49, of Pataskala, Ohio died on Tuesday, December 26, at the Mayo Clinic in Rochester, Minn. after a lengthy battle with cancer. Born in Westfield, Mr. Howard was Chief Executive Officer of Howard Industries and chairman of the Pataskala Board of Zoning Appeals. He also was a member of the Jersey Baptist Church in Jersey, Ohio.
His father, James O. Howard, predeceased him. Surviving are his wife of 14 years, Bonnie Howard; their children, Caitlin, Courtney and James Carson Howard; his mother, Maybelle Howard; a brother, Robert (Valerie) Howard; a sister, Cindy (Greg) Peterson; his nieces and nephews, Abigail and Austin Howard and Amy, Megan and Brent Peterson; his father-in-law and mother in-law, Al and Ellen Davis; his brother in-law, Lee Davis, and sister-in-law, Beverly Peters.
Funeral services were entrusted to Schoedinger Northeast Chapel, 1051 East Johnstown Road, Gahanna, Ohio 43230. Services were held on Friday, December 29, at the Jersey Baptist Church.
Contributions may be made to the Mayo Clinic, 200 First Street S.W., Rochester, Minn. 55905 in memory of James Howard for Thyroid Cancer Research. To extend condolences, please visit www.schoedinger.com.