Westfield Senior High School


Class Of 1975
In Memory
Carol Harbaugh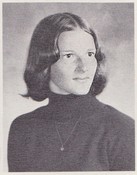 Westfield Leader, August 4th, 2004
Carol Harbaugh Murphy, 47, Nurse; Was Member of WHS Class of 1975
Carol Harbaugh Murphy, 47, of Annandale died on Monday, August 2, at her home.
Born in Springfield, Ill., she grew up in Arlington Heights, Ill. And Westfield, attending Franklin Grammar and Roosevelt Junior High Schools. A 1975 graduate of Westfield High School, she attended West Virginia Wesleyan University and received a Bachelor of Science in Nursing degree from Fairleigh Dickinson University. At the time of her death, she was employed as a nurse by the Hunterdon Medical Center.
Surviving are her husband of 25 years, David Paul Murphy, and two sons, Brian Patrick and Kevin Paul Murphy of Annandale. Also surviving are her parents, Paul J. and Marlene M. Harbaugh of Mountainside, and her seven siblings, Gregory A. Harbaugh of Raleigh, N.C., Mary H. Kiningham of Little Silver, Mark D. and Paul M. Harbaugh of Westfield, Ann T. Lauria of Poughquag, N.Y., Patricia M. Horner of Bailey, N.C. and Kathleen M. Butler of Wake Forest, N.C. She was also a much loved aunt to 23 nieces and nephews.
Visitation will be from 2 to 4 and 6 to 8 p.m. today, Thursday, August 5, at the Martin Funeral Home on Route 31 North in Clinton. A Mass of Christian Burial will be celebrated at 10 a.m. tomorrow, Friday, August 6, at the Immaculate Conception Roman Catholic Church in Clinton.
Memorial donations may be made to the American Cancer Society, 507 Westminster Avenue, Elizabeth, N.J. 07208.