Westfield Senior High School


Class Of 1975
In Memory
Dean Eberling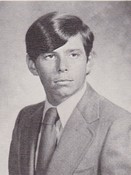 Westfield Leader October 18th 2001
Dean P. Eberling, 44, Was Analyst;
Active With Bicycling Organizations
Dean P. Eberling, 44, a Cranford resident who worked at the World Trade Center in New York City, has been missing since Tuesday, September11.
Born in Elizabeth, he had lived in Westfield and Seaside Park before moving to Cranford 20 years ago.
Mr. Eberling was employed as an analyst for Keefe, Bruyette and Woods for the last two years. Before that, heworked for Merrill Lynch and Company, Lehman Brothers Holding Co.Inc., Prudential Securities Inc.,Salomon Smith Barney Inc. and Putnum Lowell Securities.
A 1975 graduate of Westfield High School, he earned his undergraduate degree in business from Fairleigh Dickinson University in 1981. He received a master's degree from Seton Hall University with a Master of Business Administration Degree in 1985. He was a member of the Trinity Episcopal Church in Cranford, the National Off Road Bicycling Association and the International Mountain Bicycling Association.
He was predeceased by his father, Charles P. Eberling, in 1974, and his mother, Helen Betty Eberling, in 1986.
Surviving are his wife of 20 years, Amy Gallagher Eberling; two daughters, Cori Elizabeth Eberling and Lauren Ashley Eberling, both of Cranford; a brother, Charles L. Eberling of Cranford, and a sister, Karen E. Aurand, also of Cranford.
A memorial service will be held at 1 p.m. on Wednesday, October 24, at St. Paul's Episcopal Church in Westfield.
Arrangements are being handled by the Gray Memorial Funeral Home, 12 Springfield Avenue in Cranford.Memorial contributions may be made to the Make A Wish Foundation, 1034 Salem Road, Union 07083 or to the Endowment Fund of Trinity Episcopal Church at North and Forest Avenues in Cranford.