Westfield Senior High School


Class Of 1975
In Memory
Monica Byrne (DiTomasso)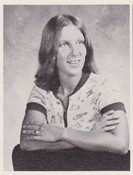 Westfield Leader, November 6th 1980
Mrs. Monica DiTomasso
A funeral Mass was celebrated by the Revs. Michael Desmond and William Morris Friday in Holy Trinity Church for Mrs. Monica B. DiTomassn, 24, of Hazel Ave. who died Tuesday, Oct. 28. at home.
Interment was in Fairview Cemetery.
Mrs. DiTomasso is survived by her husband, James C. DiTomasso; her parents, Mr. and Mrs.Thomas J. Byrne of Westfield: six brothers.Thomas J Jr. of Flemington. Frederick A. of Robbinsville. Paul J. of Clark, Roberl E. of llawarth, and John M. and William M. of Weslfield; and three sisters, Mrs. Mary Jo Armstrong of Lawrenceville, Mrs. Theresa M. Baldwin of Highland Park, and Irene M. of Westfield.
Arrangements were under tlie direction of Ihe Dooley Colonial Home, 556 Westfield Ave