Westfield Senior High School


Class Of 1975

ANNOUNCEMENTS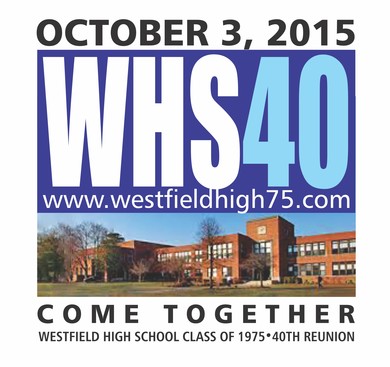 Have you heard, it's October 3rd…
Well the 40th Reunion Committee's kickoff meeting was held on Thursday, March 6th via tele-web conference. Much was discussed and several critical decisions were arrived at including Date, Venue, and Venue format. In addition to the actual venue, the possibility of other related events bookending the reunion were discussed including an informal Friday night gathering with some homegrown musical talent, cheering on our Blue Devils Football team on Saturday, and perhaps even a brunch on Sunday.
So what we do know at this point…
Reunion Date: Saturday, October, 3rd 2015
Venue: Echo Lake Country Club, Westfield, N.J.
Venue Format: Extended Cocktail Party w/Cash Bar
What we don't know yet…
Event Pricing: Unknown at this time. We'll post once the details are figured out.
What can you do?
We know enough now to start spreading the word.
While one of the major committee tasks moving forward is communicating this event to the world, we were a huge class, so reaching out to your particular network of friends will greatly support the effort.
Please check our Class Web Site at www.westfieldhigh75.com as well as our facebook page for ongoing updates.
…Spread the word, October 3rd